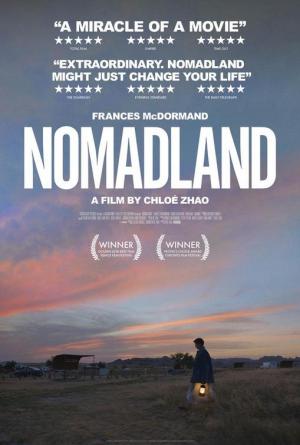 (a "not Home Sweet Home….yet" film review by Timothy J. Verret)
NOMADLAND can be a real "life game changer" if one is looking to change their life for the better. Can I get an "Amen" if this is you? It's certainly me and it's certainly needed, and I certainly thank God this film helped me to see that. Some films just change us like that, and they are usually those quiet films, those lyrical films, those poetic films like this film that are of few words but of massive soul. These films serve us our own grief and loss and what we have lost but what we have found. They are the pinnacles of soul-searching and heart-longing simply because we are "not Home Sweet Home….yet."
It was the main character, Fern, who delivered the line that started this whole "not Home Sweet Home….yet" film review, when she stated to another character, "I'm not homeless….I'm 'house'less." It got me thinking we are ALL homeless and we are ALL 'house'less because this earth is NOT our Home nor our 'House.' We're down here, no doubt (just look around you), but we're "not Home Sweet Home….yet." Fern is "not Home Sweet Home….yet" because she is not at "home sweet home" with her grief and loss over her departed husband (did he depart to "Home Sweet Home?"), a man she clearly loved whether in a sweet home or a sweet house or whether neither in BOTH. Fern speaks (but rarely) of a clarity that is her "nomadness," which is a clarity of coming to terms through the tears (or lack thereof). Speaking of "tears," you would not have wanted to be with me for the last 30 minutes or so of this film, wherein I was a blubbering mess and completely inconsolable. Films like this of such spiritual heights and depths and everywhere in between do this to me. They rip my heart out because the characters have had their hearts ripped out. Empaths like myself know all about this. We just don't shed tears to shed tears; we shed tears because we know EXACTLY how it feels whatever everyone is feeling, especially when it comes to love, pain, beauty and sorrow (look up an empath Enneagram 4, and you'll see exactly what I mean and who I am and why I am). I don't necessarily wear all of this as a badge of honor. I simply wear all of this because I simply have no other choice.
Fern made choices when she went out looking for "Home Sweet Home"….or did she? Did she make the choices or did the choices make her? Interesting….and I would love to go into more detail about that one, but I am not looking to write a film review as all-encompassing and all-1,225 words as the novel, WAR AND PEACE. What I am looking to go into more detail about is Frances McDormand's performance as Fern. There are just some actors who are so authentic in their portrayals that they don't have to say a word for us to know everything that is going on inside of them. McDormand is "fearfully and wonderfully made" (Psalm 139:14) and flat-out "poetry in motion" in her portrayal of Fern. I kid you not that McDormand does something truly spectacular here, i.e., she tells all our stories of what it feels like to have gone through a grief and loss that shatters us everything and relocates us everything, leaving us to live simply "all motion with no motivation." One can become like a robot in this kind of grief and loss. One can get SOOOO NUMB that there really is nothing else left in life but SOOOO NUMB! I know THAT SOOOO NUMB, and I wouldn't wish that on anyone. I do wish I could speak to McDormand to tell her how much I appreciated her "fearfully and wonderfully made" bravery and spiritual immersion in her portrayal of Fern, but she doesn't need to hear that from me. She already heard it this year when she won a well-deserved Oscar as Best Actress. McDormand won not only because it was well-deserved but also because it was well-Divined what she accomplished in this film. That's right! A Divined performance, the stuff that Divined (and Oscar) dreams are made of! 👏
So, why are we ALL nomads? Why are we ALL "not Home Sweet Home….yet?" Once again, I could go into great detail about why that is, but your "Home Sweet Home" might not look like the one I'm looking for as a nomad down here on earth. Maybe you already ARE "Home Sweet Home….yet?" Who am I of yet to tell you otherwise? I just know I am "not Home Sweet Home….yet" and why I experience such deep pangs of loneliness and grief and loss, same as Fern. And I could come up with one clever reasoning after another why this is all true for me but NOT MY word….the Word of God:
"For this world is NOT our permanent home; we are looking forward to a Home yet to come" (Hebrews 13:14).
I tried my darndest to find my favorite scene in NOMADLAND when a lovely character named Swankie sent Fern a video of many sparrows flying from their nests. It was a beautiful scene with the most tender and yet the most thrilling music played throughout. I found this particular scene to be the heart of this film because we all have to leave our nests eventually to truly fly. Even in the most unbearable grief and loss, we still need to eventually and truly fly. We'll know we're ready to fly when it's time, but it may only be time when it's finally time to fly "Home Sweet Home." And don't think for one second I'm not going to go all Bible on you when it comes to any notion of sparrows:
"Are not two sparrows sold for a penny? Yet not one of them will fall to the ground outside your Father's care. And even the very hairs of your head are all numbered. So don't be afraid; you are worth more than many sparrows" (Matthew 10:29-31).
And just as a side note, just because we as humans are worth more than many sparrows does NOT mean sparrows are not worth "many" to God. God knows the very hairs (or feathers) on their head, as well. Just ask Swankie!😉
"See you down the road" became an anthem in NOMADLAND about when we get "Home Sweet Home." This Home would not be Sweet at all if who and what we have lost down here on earth, we were never again to "see you down the road." I already know I will, although many Christians would not agree with me in the least on who and what I want to see. That is my fur kids! One such Christian comes to mind who was a pastor in a church who told the entire congregation that we would not see our pets when we get "Home Sweet Home." It took everything out of me not to stand up in that church and start a riot! What I know without a shadow of a doubt is that I WILL see my departed pets and the ones I have now who might leave me before I leave them when I get "Home Sweet Home." I'll be "fearfully and wonderfully" looking forward to that day, you can be sure, and I know you will, too, when who and what you have lost down here on earth will "see you down the road."
But I and Fern (and you?) are "not Home Sweet Home….yet."