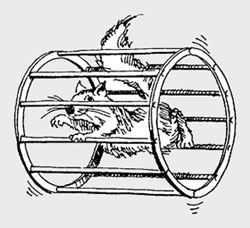 "Father God, thank You that for our last page, it will read LOVE. Our hearts know this, even if our minds run wild as in a squirrel cage. The Last Page of the Bible reads that Jesus says, 'Surely I am coming quickly' (Revelation 22:20). Speaking of 'quickly,' let none of us turn quickly to that last page, only to find that we were at our worst with 'made love.' Let none of us turn quickly to that last page, only to find that the lives we lived have been masquerade, that we lived self-centered and we lived deceived. 'Did we give more than we receive?' Let it be 'YES!" Yes, Father God, for there was no Better Way to 'give than to receive' than You giving us Your Son and our Savior, Jesus Christ. We receive Jesus Christ!!!! On a more personal note, as an Enneagram 4, 4's are often called 'The Romantic.' When it comes to romance, this is what I quickly dream about. All my life, I have been waiting for that special someone to meet my every want, need, hope, and dream. Maybe this is why I 'fled to be dead' so many times. I did not expect that Jesus would be the special someone I've been waiting for all my life (though He did not come quickly). As 'The Romantic,' I yearn to be hugged, held and, yes, loved. My special someone is that Special Someone I've waited for all my life and met: JESUS! Though He came not quickly, He came better late than never! Your nonhuman animals, Father God, yearn quickly to be hugged, held and, yes, loved, same as Your humans. 'The Romantic' and the romance (BOTH) is for BOTH! I pray all of this in the Wonderful and Precious and Quick Name of Jesus Christ, and this prayer is answered by my faith and my belief. Please help me, Father God, where my faith and my belief are lacking. Amen."
(God's Sonnet by Timothy J. Verret; "it's how I cope to hope in that Last Page of Revelation that reads Jesus is coming quickly, for how much longer can I hold 'out and in' [BOTH] this daily leavened [Jesus Quickly Comes!] bread?")
It will be the last page you turn to first.
It will read for you that it's love you made.
Will it read that "made love," you at your worst?
Pray that the last page not your masquerade.
It will be the last page I'm remembered.
It will read, "Did I give more than receive?"
The last word of my last page? Self-centered?
The first word of my first page? Undeceive!
"You keep it real, Timothy! You keep Me!"
says Jesus. "Your last page will read you stayed.
Even when you 'fled to be dead,' I flee
never from first page to last page you prayed."
Our minds may run wild as in a squirrel cage.
Our hearts always read LOVE on the last page.
picture at: https://www.acdrivesguide.com/images/squirrelcage.jpg