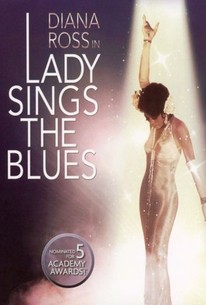 (a "most artists don't feel worthy" film review by Timothy J. Verret)
LADY SINGS THE BLUES ain't kidding with that title for this film. Billie Holiday was a jazz singer who this film is apparently loosely based upon, who sang the blues of songs she was living, i.e., not feeling worthy of the love and admiration so many had for her. It is something most artists, especially the great ones, carry with them quite often to the bitter end. For Holiday, it was the carrying of drug addiction and the addiction to self-sabotage and deep self-hatred, and I could write the book on these very same things in my artistic life.
Diana Ross plays Billie Holiday. Ross is phenomenal in the role. Ross is an icon in the world of music and while Holiday sang at her best from a place of deep sadness and "lost love," I remember Ross singing more upbeat songs like, "Ain't No Mountain High Enough" and "I'm Coming Out" (of course, there is "Endless Love" with Lionel Richie, which is as Holiday a song as one can imagine). The film takes us from the very beginnings of Holiday all the way to this bitter end I referred to earlier with Holiday dying at only 44 years of age. In these beginnings, Ross is completely believable as a teenager and she stays believable throughout the entire film. The drug addiction scenes are particularly harrowing. The film, in fact, begins with Holiday imprisoned and withdrawing from drugs in a padded cell with a straightjacket on and while it's a grueling beginning, we can't comprehend her "gruel" until Holiday's memory unfolds us in her triumph and her tragedy (BOTH!) and then returns us yet again to the padded cell where we now completely comprehend her "gruel." Ross is so convincing, particularly in her "high" scenes, to the point that we as viewers want to comment, "Gee, Diana Ross, you're not supposed to be taking drugs while you are acting in a film!" Once again, these scenes are not for the squeamish.
Even though Holiday had a great love in Louis McKay and millions of admirers and fans, what Holiday didn't have is a great love for herself which made all the external admiration impossible to accept, thus ensuring a bitter end because of this nonacceptance. This is what many artists, particularly the great ones, have to work with. It had been the plight of the Chris Farley's, the Heath Ledger's, the Sylvia Plath's, the Phillip Seymour Hoffman's, The Virginia Woolf's, ad nauseam. Most artists, particularly the great ones, have a great need and even a greater desperation to create (act, sing, paint, etc.) from this deep well of feeling unloved and feeling unseen. It usually starts very young with an absent parent and/or divorced parents and/or sexual abuse/rape and/or anything else that traumatizes the very young artist to feel unloved and unseen. Once again, this is quite the recipe for me as an artist. I'm not a great artist, though; I'm just an artist who creates from these deepest of disappointments and hurts and shortcomings.
I was especially struck by the beginnings of Holiday's jazz-singing career. She finds a club that is willing to hear her sing (thanks to Piano Man played by Richard Pryor) and when she opens that mouth and that voice comes out, the club owner knows he has found his star. The problem, though, is that this is a club where the female singers have to spread their legs and squeeze in their dollar tips. Holiday just can't do it, and I think this is what makes her not a good artist but a great artist. I'll use Barbra Streisand as an example, as she is the "greatest star" and artist I know. When Barbra Streisand as Fanny Brice in the opening of FUNNY GIRL (1968) is hired at a club as a "beautiful showgirl," she knows she is not all that beautiful (not physically, anyway), so she knows she has to be funny if she will ever just fit in. What she doesn't know is that this need to fit in is what is going to make her stand out. Holiday probably doesn't know either that she is going to stand out by NOT spreading her legs and squeezing in dollar tips. She and Brice do what all great artists do: They can't accept the "norm," so they raise their game by bucking the system and the status quo, singing more beautifully as Holiday does and being more funny as Brice is. This becomes their "meal ticket," but it also becomes how they stand out as great artists.
LADY SINGS THE BLUES is not one of the greats as far as films about the rise and decline of a great artist (LOVING VINCENT [2017] and, of course, FUNNY GIRL [1968] come to mind; please let me know some of your favorite films of this type). That said, it does have Ross in a sensational performance (she lost the Best Actress Oscar to Liza Minnelli for CABARET [1972] and while I loved Minnelli in that film, Ross clearly deserved the win, especially given that this would be THE performance of Ross' soon-to-be-short acting career). The film more than anything enlightens artists, whether good or wanting to be great, about what can happen when admiration is sought from adoring fans, but the admiration turns out hollow because these same artists have no self-admiration, self-love or self-worth. Once again, I can TOTALLY relate to this as a good artist wanting to be great. But I won't ever be a great artist until I truly admire and love myself and know I'm most definitely worth being a great artist. And, yes, indeed, I am going to have to stand out!